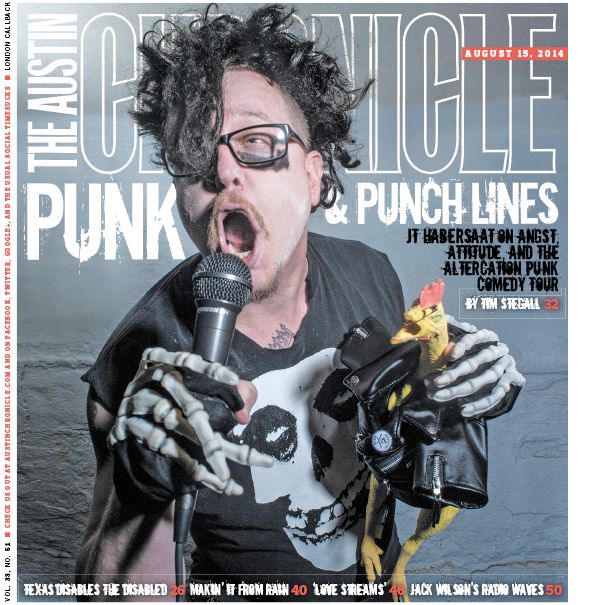 A native New Yorker currently calling Austin, Texas home, JT Habersaat has headlined and curated the Altercation Punk Comedy Tour since its inception in 2008. He is currently signed to Stand Up! Records. His Altercation Tour album 'Hostile Corporate Takeover' was released on vinyl in 2013, featuring cover art by Raymond Pettibon. He recently filmed a new one hour special dubbed 'Misanthrope', which will be released in 2016.

JT has performed alongside numerous comedic powerhouses such as Doug Stanhope, Brian Posehn, Andy Dick, Kyle Kinane, Joe Sib, Jeanine Garofalo and many more, and remains one of a handful of comics ever invited to share the stage with Black Flag's Henry Rollins. Habersaat is also a consistent performer alongside many of Stanhope's Unbookables crew, including Kristine Levine, Mishka Shubaly, Andy Andrist, Junior Stopka, Henry Phillips and Brett Erickson.

In addition, JT remains a requested support act for many bands, recently performing with such notable peers as Teenage Bottlerocket, Sloppy Seconds, The Murder Junkies, Krum Bums, The Adolescents, Lower Class Brats, Chuck Ragan, Tim Barry, M.O.D., Riverboat Gamblers, Dead To Me, Off With Their Heads and D.C. hardcore legends Scream.

Habersaat is a repeat headline performer at numerous festivals, including Punk Rock Bowling Las Vegas, Akumal Comedy Festival Mexico, Fun Fun Fun Fest Texas, The Fest Gainesville, Vans Warped Tour and Hell Yes Fest New Orleans. His television and film roles include appearances on Comedy Central's 'Upright Citizen's Brigade', Troma's 'Toxic Avenger 4', the upcoming horror/comedy film 'Fun With Hackley: Axe Murderer' and many more.

JT is the author of 'The Altercation Archives', published in 2012, and is currently at work on a new novel. Habersaat started TheRoadPodcast.com in summer 2014, which currently boasts over 25K downloads, and has guest hosted on national broadcast radio station 'Today's Comedy' as a featured comedian of the week.

When not on the road JT enjoys bourbon, his cats and silence.